i am craving for cupcakes!!!
i am browsing the picture from my lappy, and then as usual, blogwalking... search again and again and again... u know what i'm looking for?


a nice

c

u

p

c

a

k

e

s

!


yup,

pretty

,

cute

,

adorable

,

sweet

, and

pastel

cupcakes always cheer up my day (and my tummy as well! )


now i'm feeling hungry... and i want to eat cupcakes! huhuuu.... mana nak cari ni... ngidam la plak...
huuhuu
from young baker, with fresh design. by mylittleoven.blogspot.com


new design from cuppacakes by wondermilk! uhh.. i love purple... :)
another collection from
cuppacakes by wondermilk
. sweeetttt! sayang nak makan...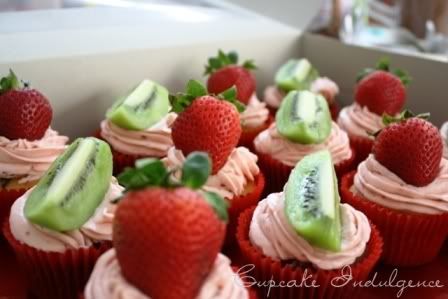 a little twist from cupcake indulgence. fruity cupcake anyone?
look delicious
this cupcake does look adorable as well, although i'm not into fondant/ gumpaste type. its really pretty to look at, but i cannot gigit la gula tu... seriau je rasa hehe...perfect
for hantaran, not to eat much...
this from bakedecorate2u.blogspot.com
.
ok. enough for jamuan mata... sapa nak ikut aku gi jalan2 cari cupcake?